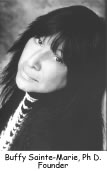 About the Founder of the Nihewan Foundation
Buffy Sainte-Marie
The Nihewan Foundation was created in 1969 by a young songwriter with a teacher's degree and a lot of money.
Buffy Sainte-Marie earned her own degree in Oriental Philosophy from the University of Massachusetts, later received a teaching degree, and eventually a Ph.D in Fine Arts. Expecting to continue her studies and eventually teach on a reservation, in 1962 she took a break from study to try her luck at singing professionally the songs that had made her a familiar face at off-campus coffee houses. This resulted in the fortune which funded and founded the Nihewan Foundation for American Indian Education. Traveling all over the US, Canada and Europe, within eighteen months she became famous for her songs of love and conscience, like "Universal Soldier" and "Until It's Time for You to Go", which has been recorded by over 160 artists in 16 different languages. She was Billboard's Best New Artist following the release of her first record in 1964 and unlike other folk musicians of the time, also experimented with electronic music, creating the first totally electronic quadraphonic vocal album in 1968. During the Sixties Buffy Sainte-Marie established her unique way of life, combining concerts in big cities with experience in grassroots Indian communities and becoming a bridge between cultures. Buffy founded the Nihewan Foundation for American Indian Education on the basis of her love of teaching, her belief in Native American potential, and her newly found financial success in the music industry.
Performing in Asia, Australia, New Zealand and throughout Scandinavia, Buffy Sainte-Marie used her airplane tickets to combine glamourous city concerts with side trips to indigenous communities where she would both teach and learn. Thus, between 1964 and 1969 she discovered that the challenges facing Native American people were mirrored throughout the world wherever colonialism had marginalized indigenous peoples. The universality of her songs not only inspired worldwide folk/pop audiences but also provided a sense of unity to people of many backgrounds who wished to improve race relations in their own countries. During this time she traveled internationally and shared the stage with Marlon Brando, Peter Ustinov, Danny Kaye, Dinah Shore and Harry Belafonte, performing concerts for UNICEF, Save the Children, and the High Commission for Refugees.
Returning from abroad, she found that her records had become hard to find in the United States, but not in Canada. Her American concerts would sold out but top television programs like the Tonight Show asked her not to perform Universal Soldier, Now that the Buffalo's Gone or others of her strongest and most requested concert material, and to refrain from talking about Native American issues. Ten years later, radio broadcasters would apologize to her for having gone along with a blacklisting campaign during the Johnson administration to suppress the music of Buffy Sainte-Marie, Eartha Kitt, Taj Mahal and others. Oblivious to the circumstances at the time, she continued to write and record, and concentrated her travels on Indian reservations, showing up occasionally for splendid concerts at Lincoln Center in New York and the Dorothy Chandler Pavilion in Los Angeles, where, years later she would receive her Academy Award.
In 1976 her son was born and she quit recording, having released 14 albums, all of which were interlaced by songs reflecting Native American realities in an era otherwise marked by stereotyping. At the time, Buffy Sainte-Marie's songs were a very effective way of teaching, and reached millions of young adults with hard to find information. For five years she appeared as a semi-regular on "Sesame Street", working in episodes dealing with breast feeding, sibling rivalry, and Native American culture. She brought Big Bird and friends to Taos Pueblo reservation, and taught The Count how to count in Cree. The personal mandate she chose to bring to the Native American episodes was the basic message that "Indians exist". Her message reached children and their care givers of all races in 73 countries of the world three times a day and, according to Native American teachers battling virtual invisibility in school systems, was an educational triumph.
In the 1980s she won an Academy Award Oscar for the song "Up Where We Belong" from An Officer and a Gentleman; continued to experiment with electronics and music computers in film scoring; and to do occasional concerts in Canada, Europe and Indian Country to support her family. At home she expanded her use of computers to digital art. Her huge digital paintings were among the first large scale digital works to be exhibited in museums and galleries in North America, beginning with the Glenbow Museum in Calgary. In the late 80s and throughout the 90s, she taught digital art and music as Adjunct Professor of Fine Arts at Saskatchewan Indian Federated College in Regina; at York University in Toronto where she still serves as an Adjunct Professor; and at the Evergreen State College in Washington State where she taught electronic music, digital art and Native American studies as an Evans Chair Scholar. Her revolutionary Ensign Records comeback album, "Coincidence and Likely Stories" was way ahead of its time in 1991, recorded at home on her Macintosh, then sent via modem over the phone lines, bounced off the satellite to go onto tape in London, England. During this time her Nihewan Foundation continued quietly to fund college scholarships and also expanded to serve grade school children and teachers by creating Native American curriculum and the prototype for what would later become the Cradleboard Teaching Project.
A teacher before she ever started singing, Buffy Sainte-Marie has continually used her talents in art, music and cutting edge technology to educate both onstage and in the classroom. In 1998, Sainte-Marie was presented with the Louis T. Delgado Award as Native American Philanthropist of the Year by Native Americans in Philanthropy. In 1999, she was the recipient of the American Indian College Fund's Lifetime Achievement Award. In Ottawa, she was named an Officer in the Order of Canada which is the highest civilian honor that country can bestow.
Her recent CD "Up Where We Belong" , recorded for EMI Canada, includes new recordings of her most requested songs and won a JUNO in the Music of Aboriginal Canada category. The accompanying CBC television concert earned her a Gemini Award for Best Performance in a Variety Special. She served on First Lady Hillary Clinton's committee to Save America's Treasures. She also served on a national committee dedicated to in-service learning for children called Learning InDeed, chaired by Senator John Glenn. Buffy Sainte-Marie now combines concert travels with Cradleboard Teacher Training workshops and presentations.
The PBS American Masters series features
Buffy Sainte-Marie: Carry It On
click
HERE
for a full list of honours and degrees